Old Hickory's Happy Owners
May sound a little corny but out Motto is "We don't sell sheds, we help people"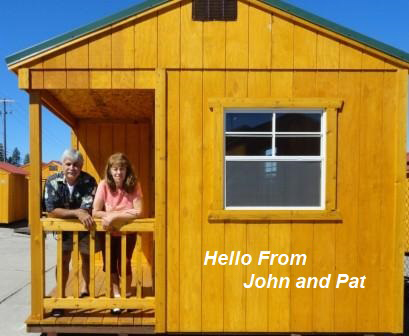 Hi, we're John and Pat Motley and we are the very first Old Hickory Shed dealer in the country. For over 10 years we have been a dedicated dealer and have sold over 5,000 sheds and barns, going on 20 million dollars in sales, and talked with well over 40,000 customers.
Guided by experience, knowledge, and patience we help you design and order the perfect building for your needs and property and we look for any potential challenges with the delivery. We give you the honest and straight forward truth about the company, the buildings and options, delivery costs if any, and buying verses the rent to own program.
We are focused only on Old Hickory Shed products, we don't sell used cars, tractors, trailers, farm supplies, window tinting or other things, only Old Hickory Sheds and we do not use used car salesman tactics.
We're also concerned about the possibility of the need for a building permit
or homeowners association approval. When other dealers have said "It's
not my problem", we feel it's our responsibility to do whatever we can to
help you avoid any problems. We offer free stamped engineered plans
before you purchase a building so you can apply for a building permit or
HOA approval if necessary.
For us it's not just about selling you a shed, it's all about the "Happy Ending"
when your wonderful new building is delivered, and you have a great big
smile on your face …
Here's just a few of our many Happy Customers ...